A few years ago, our family stopped receiving standard cable television. Before moving, we spent approximately $160 monthly on TV and the Internet.
We used to pay $44.99 for Playstation Vue and $59.99 for internet, but we pay $59.99 now (Vue is now being shut down).
We decided to look around for a less expensive streaming service when PlayStation Vue informed us that they would be hiking our rates for their service to $49.99/month once more (this is the second time they have increased pricing by $5).
Throughout my research, I came across Philo Review, one of the most reasonably priced over-the-top streaming TV packages.
Let's examine this live TV streaming service provider in more detail.
Synopsis of Philo TV Review
One of the cheapest cable TV packages is available through the over-the-top streaming service Philo. Their introductory monthly prices are just $20! Get unlimited texting and calling with a visible app.
Here are a few quick advantages and disadvantages of the service:
Pros
Basic cable TV bundles are reasonably priced; the 61-channel Philo package costs just $20 monthly.

Several popular channels are available on Philo TV, which you may access with any cable TV subscription.

30-day cloud DVR:

 Philo offers unlimited recording storage for up to 30 days. To get started, set it to save your favourite shows.

No contracts:

 With Philo, your agreement is always month-to-month, so you can terminate it whenever you choose.

Most popular devices are compatible with Philo now, including the web, Roku players, Apple TV, Fire TV, iOS, and Chrome on Android.

No credit card is required to start the 7-day free trial: With a phone number, you may instantly begin your free trial (no credit card needed).
Cons
No premium sports channels on Philo contribute to their low price.

No local live channels. Philo doesn't offer any local live channels. You should set up a backup option for live broadcast TV. I use Tablo over the air.

I use a Plex server with live TV DVR to obtain my live local channels.
What Is Philo TV?
In 2009, Harvard seniors Nicholas Krasney and Tuan Ho started Philo, an online streaming cable television service. After Philo T. Farnsworth, who created television in 1930, it is called "Philo." Until the November 2017 debut of its new service, it served primarily as a streaming service for college students (source).
Philo started as an experiment to "pick up TV signals and distribute them wirelessly to their laptops via a jerry-rigged server", using aluminum foil as a makeshift satellite dish. The project's original goal was to get around Harvard's policy of providing its students with something other than cable TV service. In the first few weeks after the program became available to the general public in 2011, half of the Harvard residents signed up for it. 42 universities offered the service as of September 2015.

Philo debuted a brand-new OTT streaming television service in the United States on November 14, 2017. The service offers channels from companies, including A&E Networks, AMC Networks, Discovery Inc., and Viacom. Still, it excludes sports programming from 21st Century Fox, The Walt Disney Company, NBC Universal, CBS Corporation, or Time Warner. Televisions, desktops, tablets, and phones can all access the service.
You do not need to sign a contract with Philo TV like with certain cable TV providers because it is a month-to-month subscription service. With a 7-day free trial, you can be sure you like the service before committing fully. You can cancel at any time. To begin the free trial, you only need a phone number; nothing else!
Why You Should Consider Philo As A Streaming Service
Streaming services like Netflix, Amazon Prime, and Hulu have been very popular over the past five years. Many less expensive streaming options, including YouTube TV, Hulu + Live TV, AT&T TV Now, Sling TV, and Philo, have begun to displace traditional cable TV offerings. Best and proven methods to make money just by working one hour daily.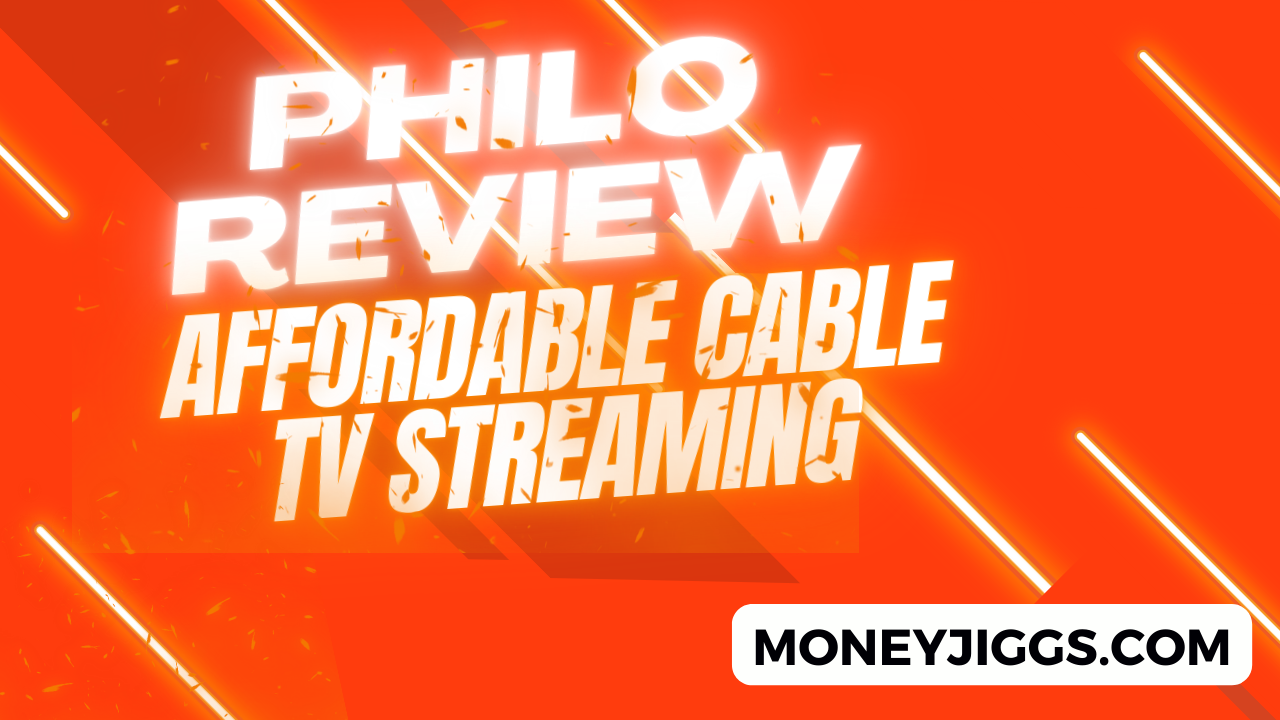 Over the years, I've used many cord-cutting equipment, devices, and services and reviewed them on my website. Here, I even discuss why we utilize the tools and show my entire cord-cutting setup.
What makes using a service like Philo advantageous?
Low Price
Because they are much less expensive than their traditional cable competitors, streaming cable TV services are becoming increasingly popular.
According to a review of government data, TV service costs have increased roughly twice as quickly over the past ten years as quickly as the inflation rate. S&P Global Market Intelligence, a data source, reports that since 2007, customers' cable and satellite TV bills have increased 53% to $100.98 in 2017. (source)
A typical cable TV user pays $100.98 per month for their package.
For around $20 per month, Philo subscribers can enjoy a TV package that is remarkably comparable to what they would receive from cable providers. By streaming, you save hundreds of dollars a year!
Just Pay For What You See
However, the popularity of streaming services is more than just due to cost. They are becoming increasingly popular because you can select the channels you want rather than purchasing expensive premium packages that include many channels you don't watch. Make money with free apps easily and in fast reliable ways. Top passive income ideas for all.
For instance, you can sign up for a non-sports bundle if you don't watch sports. The fact that Philo doesn't provide sports packages helps to explain why their service is so inexpensive. The sports bundle is one of the most expensive components of a cable subscription.
On the Go Watching
A regular cable TV provider cannot compare to Philo's portability and mobile readiness. If your mobile device has an Internet connection, you can watch your shows wherever you are. With Philo, there are no geographical restrictions on where you can view your subscription.
With a standard service, you may require specialized equipment, such as a Sling Box, to view your shows on the move.
So why should you consider Philo as a streaming option? Because they are considerably more compatible with watching your shows on the go and are inexpensive, you may only pay for what you use them for.
Now let's examine Philo, the most cost-effective streaming service, in more detail.
Philo is just $20 monthly, more than 80% less expensive than the typical $100.98 pay TV bill!
How Much Does Philo TV Cost?
What is the price of the service, then? The one-channel package Philo offers currently has the lowest price I've ever seen for pay TV. Just $20 each month!
But there is a condition. Philo doesn't offer any sports content, which is one of the reasons they can offer such a cheap subscription. None of their bundles contains ESPN, Fox Sports, NBC Sports, or regional sports networks. Moreover, they don't offer any live local channels.
One thing that makes typical packages from other providers so pricey is the inclusion of sports channels. Remove these, and your streaming service will be less expensive!
61 Channels in the Philo TV Bundle $20/month
The $20 bundle (the sole option available as of May 2019) contains many channels, even though the basic $16/month package is no longer offered. The following 61 channels are included.
61 Stations And Counting: Philo Channel Lineup
We TV
Viceland
VH1
UPtv
TV One
TV Land
Travel Channel
TLC
TeenNick
Tastemade
Sundance Channel
Science
REVOLT
People TV
Paramount Network
OWN
Nickelodeon
Nick Toons
Nick Jr.
MTV2
MTV Live
MTV Classic
MTV
Motor Trend
Logo
Lifetime Movies
Lifetime
Law & Crime Channel
Investigation Discovery (ID)
INSP
IFC
History
HGTV
Hallmark Movies & Mysteries
Hallmark Drama
Hallmark Channel
GSN
getTV
FYI
Food Network
DIY
Discovery Life
Discovery Family
Discovery Channel
Destination America
Cooking Channel
Comedy Central
CMT
CleoTV
Cheddar News
Cheddar
BET Her
BET
BBC World News
BBC America
AXS TV
aspireTV
Animal Planet
American Heroes Channel
AMC
A&E
I know that my wife primarily watches HGTV, Lifetime, and TLC programmes. The $20 Philo package includes all three of those networks! My wife is delighted, especially since the Hallmark channels were added before Christmas.
How much do all of these channels cost? Less than the YouTube TV package, we were previously paying $24.99. We may have a winner!
No Longer Available: $16/month Plan
Philo had a basic channel plan that only cost $16/month when the service first started. However new subscribers are no longer eligible for that plan.
In May 2019, the $16/month plan gradually ended. The lower tier $16 plan is no longer an option for new consumers but grandfathered existing customers can still alternate between the $16 and $20 plans.
Online DVR
All of your favorite shows may be recorded with Philo, and there are no restrictions on how many shows you can store. The only restriction is that the episodes can only be saved for 30 days, so save as many shows as you like.
Save Your Shows DVR Review for Philo TV
What does this 30-day DVR cost? It is free at the cost of your plan. I adore that!
Enjoy a Free 7-Day Trial of Philo TV now.
What gadgets are compatible with Philo TV?
The good news is that Philo works with several of the most popular platforms, including Roku, Fire TV, and Apple TV if you intend to utilize it. Also, it is accessible on all web browsers, iOS and Android Chrome.
These are the devices that can currently watch Philo through applications.
A mobile app for iOS.

Chrome is being used on Android 7.0

Computer with a compatible browser

Every Roku device

Fire TV by Amazon

Google TV

iTunes TV

Using a supported browser on a Mac
How Many Streams At One Time?
With the Philo TV bundle, you may stream simultaneously to up to 3 devices so that you can do it simultaneously in the living room, office, and basement!
One stream per package is the maximum that some providers will allow, which can be annoying in homes with many TVs—nothing to worry about.
Access to TV Everywhere With the Philo Login
I liked accessing several TV network apps with my username and password when I first signed up for PlayStation Vue. For instance, when we were on vacation, my wife could sign in to the TLC app and watch her preferred reality shows.
You get the same TV Everywhere (TVE) access with Philo to the network applications listed below:
AMC, BBC America, IFC, Sundance Channel, WeTV, AHC, Animal Planet, Discovery Channel, Discovery Family, Discovery Life, Investigation Discovery, Science, TLC, Velocity, GSN, Cooking, DIY, Food, HGTV, and Travel Channel are just a few of the channels available.
Things To Know About Philo
When you sign up for Philo, there are a few things you need to be aware of. The service has several peculiarities that might or might not be a deal breaker for you.
Lack of sports channels: Philo is probably not the exemplary streaming service for sports fans. Because they don't offer any more expensive sports channels like ESPN, Fox Sports, etc., their service can offer such inexpensive rates.
There are no broadcast networks or network-owned stations on Philo, including ABC, CBS, NBC, Fox, and any Disney Channel, NBC-owned Bravo, TNT, and TBS non-sports channels. There is no problem because we can receive every network station at home over the air. As for Disney, Bravo, TNT, or TBS, we don't watch them either, but if you do, be careful. Read best investing platform tradestation review
Not all channels are available: While sports-related channels are the main channels not offered by the service, there are certain things like news channels (Fox News, CNN, etc.) and other things like Disney network channels that are also not offered. I tried my best to provide information in Philo review.
The Most Reasonably Priced Streaming TV Service is Philo.
I didn't sign up for Philo immediately after hearing about it because I thought the service would be a fad.
But, after conducting some investigation, I discovered that the service has a proven track record with its Philo EDU product. The new service only debuted in 2017, yet the product is already further along.
As of July 2018, Philo has released even more mobile and streaming device applications for the most well-liked devices, including Fire TV and Apple TV. Philo has a substantial selection of cable channels, one of the very lowest costs for a streaming service, and a robust offering of cable channels.
While some people will find the lack of sports programming a deal breaker, our family has been refined with Philo for over a year.
Thanks to their free 7-day trial that doesn't require a credit card, you have nothing to lose if you want to get started.
$20/month Philo Plan
PROS
beginning at only $16/month

40 well-liked channels

30-day cloud recordings

No agreements

Login to TV Everywhere
CONS
no channels for sports

No natives are present.

3 streams maximum