We switched to a no-contract cell provider as one of our recent cost-cutting measures.
I recently learned about Visible, a brand-new low-cost carrier that recently went live on the Verizon network.
Although it is less expensive than using the conventional Verizon network, Visible is actually supported by Verizon and uses the same calling and data networks.
Due to Visible's calling plans' inclusion of unlimited everything, the service is ideal for users who consume a lot of bandwidth each month. It comprises limitless messaging, calling, and data. It accomplishes all of that while maintaining a $40/month plan!
Let's examine Visible and its offerings now.
Everything is Visible, Cheap, and Limitless
Service Visible was first introduced in 2018, making it a relatively new offering. Source: Denver Post
Visible intends to draw customers from all around the country who want to pay less for unlimited data plans. Visible opened its headquarters in Colorado earlier this year. The firm is relying on a low price and a covert, invite-only launch to attract clients with Visible's $40 monthly subscription. The business enters a competitive market that has been upended by T-Mobile, which formerly held last position and campaigned for no commitments and less complicated, more affordable options. T-Mobile has announced plans to purchase Sprint, making it the second-largest provider in the country. Also, it lowers the cost of an unlimited plan to $40 per month, something that most other cell services only do if multiple individuals sign up for a family plan. For instance, T-plan Mobile's is $70 a month, but with four lines, it costs $40 per line. Yet Visible is not fighting this battle alone. It offers up to 5 mbps speeds using Verizon's 4G LTE network, and Verizon provided funding for it. Since 2000, CEO Miguel Quiroga has also worked for Verizon, most recently serving as the company's vice president and head of digital.
Visible is concentrated on being a budget-friendly choice for those looking for an unlimited data plan. It accomplishes that for $40 a month.
What then is the catch? Their 4G internet rates are restricted to 5–12Mbps, while 5G speeds are capped at 200Mbps, which is the only serious catch. For other people, that can be a deal-breaker. But, most individuals, like myself, don't require quicker speeds while they're on the go because they typically use WiFi.
Using a Phone to Sign up for a Service from Visible
For me to test the service, Visible's staff kindly sent out an Apple iPhone 8 to me.
The phone was delivered in a plain brown box along with the SIM card, charging cable, charging plug, and SIM card.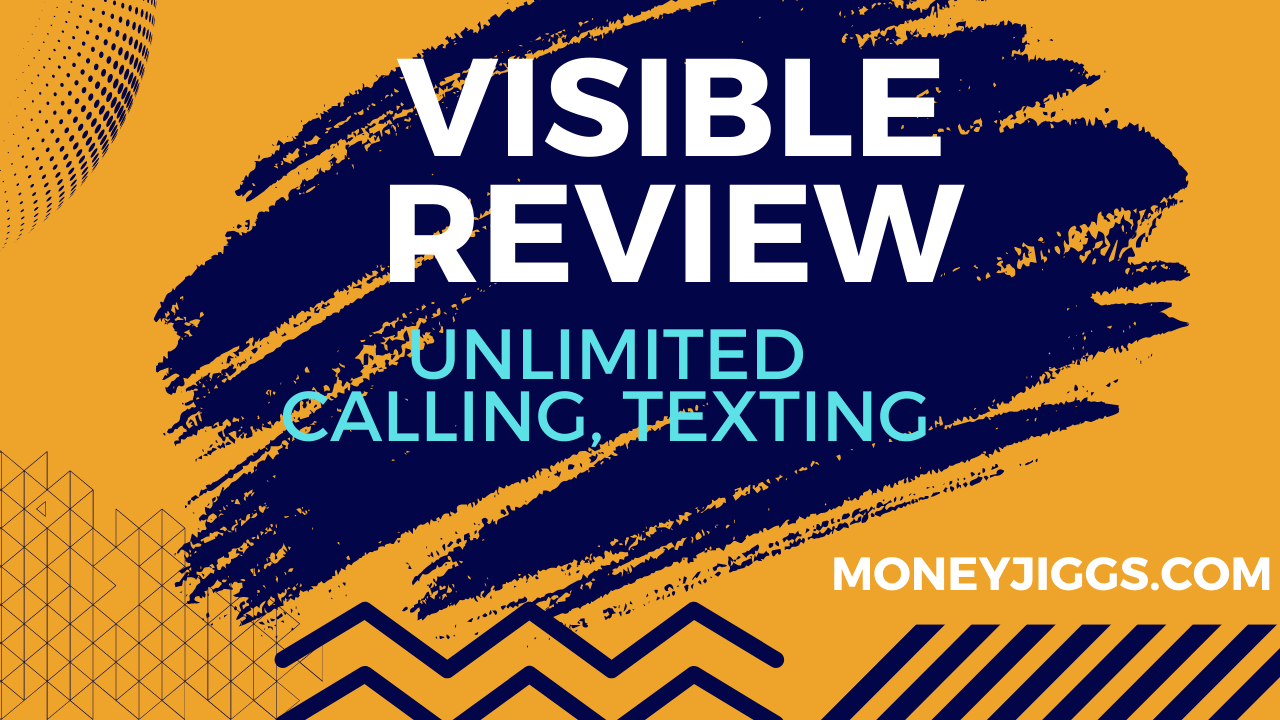 The procedure of setting up and using the phone is really easy. You simply turn on the phone after inserting your new SIM card. Simply update your carrier settings after the phone powers up, download the Visible app, and then follow the onscreen prompts.
You may manage your account completely using the app, from making payments to changing your account settings.
Visible Cell Service
Visible will have excellent coverage and call quality because it is on Verizon, one of the major networks.
They offer excellent coverage and call quality in the Minneapolis area, where I've only recently started using them.
Data services and texting both function nicely. With no worries about using up my data allocation, I've been able to text my wife and family, watch videos on the go, and listen to podcasts and streaming radio.
With Visible, you have unlimited 4G data (and for some, 5G data as well now), so there's never a concern about going over! In the past, I might not have done that much video or streaming when out and about.
Moreover, Visible offers free phone tethering on its phones. You can link your other gadgets to your phone by just turning it on. That is helpful if you wish to connect tablets, laptops, or other devices.
Customer Service At Visible
Since Visible is an app-based business, virtually everything you do will take place inside the app on your phone.
You must use in-app chat or text (text @99370) to get in touch with the customer service team if you need assistance. Also, they have a small amount of help available via Twitter (@VisibleCare) and Facebook Messenger (@VisibleMobile).
Observable Chat times:
Weekdays, 7 a.m. to 12 a.m. EST
Saturday and Sunday from 10 a.m. to 10 p.m.
Their FAQ advises contacting them via the chat and asking to speak to someone on the phone if you really want to speak to someone.
Available Phones With Visible
When Visible first began operations, they only offered a "bring your own phone" mobile service. Since that time, they have established their own store, where you may buy equipment.
visible phones that are on hand
They initially exclusively supported Apple devices. They've recently made their service available to Android users, and you can now utilize a few specific Android devices as well.
When I checked, the Visible Store offered the following phones among others:
Visible's own Android-based phone, built by ZTE (Blade X1 5G)
Galaxy S21 5G from Samsung
Galaxy S21+ 5G from Samsung
Galaxy S20 FE 5G from Samsung
Galaxy S20 Ultra 5G from Samsung
Galaxy S10e from Samsung
iPhone 12 Pro by Apple
iPhone 12 Pro Max from Apple
iPhone 12 by Apple
2011 Apple iPhone
iPhone 11 Pro by Apple
iPhone 11 Pro Max from Apple
Pixel 5 by Google
Verizon Edge
Moto G Power by Motorola
Thus, if you're an Apple fanatic, you're covered. If you love Android smartphones, you have a ton of fantastic options. Later on, there will be more.
You Should Bring Your Own Phone to Visible
You can bring your own phone to the service in addition to purchasing one of theirs.
But how do you determine which phones will function? You can easily check your device's IMEI number on Visible's website or in their app.
Finding your IMEI number and using it as a reference in our app or website is a fantastic approach to find out. With the exception of one iPhone SE and two iPhone 7 models, any iPhone 6, iPhone 6s, iPhone 7, iPhone 8, iPhone X, iPhone XS, or iPhone XR will work if you don't want to do that. Attention Android users: the Visible R2TM is currently available in our store and works with the Samsung Galaxy S9 and S9+ SE models. Keep an eye on our social media for updates as we expand the phones for which we offer our service.
So, all contemporary iPhone models—with the exception of a few of the devices indicated above—will operate with Visible.
They now provide a huge selection of Android phones that are compatible with the service.
If you're sure your phone will function, all you need to do is register for an account and request a SIM card be delivered to your home. You're ready to go once you insert the SIM card!
Plan for Visible Mobile Calls
Depending on whose survey you look at, the average cell phone subscriber pays between $80 and $100 per month for a single line of service.
Thankfully, your prices can be drastically reduced with the help of services like Visible.
Review Calling Plans Clearly
Visible only offers one package, unlike several other providers, which offer a variety of options. But that strategy includes all the provisions you require.
You receive unlimited talk, text, and 4G LTE (and 5G, if you have a device that supports it) data. Unlimited everything, indeed.
The price?
$40/month
Many other MVNOs don't even offer unlimited data when compared to other providers. The average MVNO plan has a cap of 10 or 12GB for mobile data. It is a lot, to be sure, but many don't even offer unlimited data.
You can use PayPal, Venmo, or any other credit or debit card to pay your monthly bill.
Visible Party Pay
Although $40 per month for unrestricted access to everything is already a pretty excellent offer, you may pay much less if you have a friend or family member you can invite to the program.
After you sign up, just add someone to your "Party" and, after they're activated on the service, you both will enjoy a reduction on your payment. It amounts to:
$40 monthly for a solitary person
Couples: $35 per person per month
$30 per person per month for groups of 3.
4 person parties: $25 per person each month
Hence, you may subscribe for as little as $25 per month if 4 members of your household sign up. There is no need to manage it like a regular family plan because everyone has their own account and still receives their own bill.
Downloading at 5 Mbps or higher (UPDATE: There are currently no data speed limits.)
Visible offers unlimited mobile data with the understanding that download speeds are capped at 5 Mbps. NOTE: Beginning on June 26th, 2019, Visible has chosen to temporarily remove the data speed cap for all current and new subscribers. There will be no data caps for the rest of their lives for all current and new members who sign up. Although there are currently no speed limits, Visible may soon return to them.
Even with the restrictions, 5Mbps should be more than enough for the majority of people to view video, stream audio, or browse social media. The amount of data required for typical mobile tasks is as follows:
Video Streaming: 1-3 Mbps
1-2 Mbps for video chat
1 Mbps for scrolling through your social media feeds
Audio Streaming: 0.5 Mbps
As you can see, 5Mbps should be more than enough for you to get by, but happily, as long as you sign up once the data caps are gone, it is no longer a concern.
Really, I didn't even have that fast download speed on my home internet for years!
One of the most affordable unlimited data plans is Visible.
One of the newest mobile networks on the scene is called Visible, and if you use a lot of data, they might be exactly what you need.
You may watch videos, stream your favorite music, and talk on social media to your heart's delight with their $40 universal unlimited everything package. There is never a concern about running out of data.
The availability of unlimited data is something that not many MVNOs provide, but Visible does.
If you don't use a lot of data, this plan might not be right for you, but if you need to be connected all the time and are constantly online, it might be worth looking into.
Visible $40/month Plan
PROS
Great for heavy data users
Verizon network is utilized
Simple, user-friendly app
A straightforward price
Cheapest package for unlimited data
CONS
There are no cheaper options with less data.
No family accounts, one line per account
Data is limited to 5 Mbps