There are numerous ways to profit from using Uber. Find below a detailed description of each:
1. Sign Up As a Driver
You may earn money with Uber in the simplest way possible by signing up as a driver. Picking up and dropping off riders in your vehicle is an option. The longer and farther you drive, the more money you can make. A few prerequisites to being an Uber driver include a specified minimum age, a specific set of car specifications, and a spotless driving record.
2. Rent a car to drive for Uber
If you don't own a vehicle but would still like to drive for Uber, you can do so by renting one. It's a great way to generate income with little to no initial investment in a car. However, it would be best to consider whether or not the expense of hiring a car is justified.
3. Join the Uber Eats Delivery Team
Join the Uber Eats Delivery Team: You can become an Uber Eats delivery partner instead of driving passengers. Delivery drivers use their vehicles to transport orders from nearby eateries to hungry patrons. With this choice, you can set your own hours and earn money whenever it suits you.
4. Referral Program
Current Uber drivers can increase their income by suggesting new drivers to the service. There is a referral bonus for finding new drivers. The bonus is different everywhere but can add to a lot of money.
5. Invest in Uber stock
Those interested in long-term investors should consider buying Uber shares. The stock price should rise in tandem with the company's growth and success. However, stock investment carries inherent dangers and is only right for some. Before investing your money, you should do your homework and talk to a financial expert.
6. Partner with Local Businesses
Connect with the community by forming partnerships with local companies as an Uber driver. You may offer to transport diners to and from a nearby eatery. It can help you network with local companies, leading to additional revenue streams.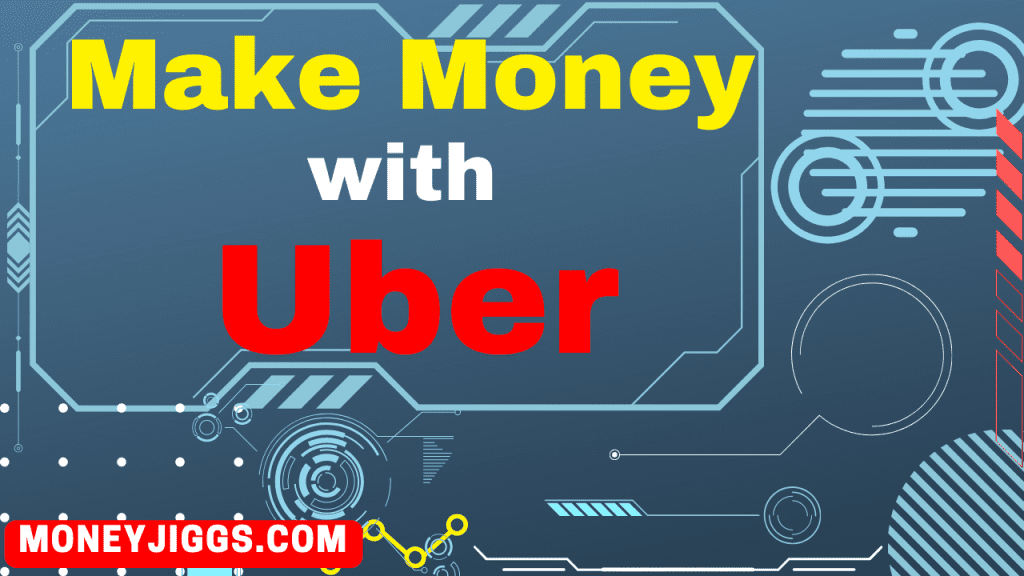 In conclusion, there are several ways to make money with Uber, including driving for the platform, renting a car to drive for Uber, becoming an Uber Eats delivery partner, launching a referral program, investing in Uber stock, and forming partnerships with local businesses. Finding the appropriate action and committing to it is crucial to your success.
Methods for Becoming an Uber Driver
The processes to becoming an Uber driver are simple and may be completed in a few minutes:
1. To become an Uber driver, you must meet the company's qualifying standards. A few examples are as follows:
Having reached the age of 21

One year of driving experience (or three years if under 23) is required.

Possessing a driving license that the United States recognizes

Being the proud owner of a 4-door vehicle (or having access to one)
2. Register for Uber: Creating an Uber account is the first step. You can accomplish this with the Uber mobile app or the Uber website. Your name, address, and phone number are just some of the information that will be collected from you throughout the signup process.
3. Submit Documents: Please upload your documents: After signing up, you'll have to verify your identity and legal right to operate a motor vehicle by submitting the appropriate paperwork. The following are examples of such things:
License to drive legally

Details on vehicle registration and insurance coverage

You, in the picture

A history check
4. Take advantage of orientation! Before becoming an Uber driver, you might have to undergo an orientation. During orientation, you will receive crucial information on the Uber platform, the driver app, and more.
5. Conduct a thorough check of the vehicle: To be an Uber driver, your car must satisfy specific requirements. It would be best if you got your car checked by a certified mechanic before applying to be an Uber driver.
6. Getting behind the wheel, you have to following these steps, you can begin working as an Uber driver. Using the app, you may begin taking rides immediately.
7. Keep an eye on your take-home pay. The Uber app allows you to track your earnings and trips taken. Maintaining an accurate record of your income is crucial for meeting your tax and other financial obligations.
Conclusion
In conclusion, becoming an Uber driver is a simple process that entails meeting eligibility requirements, registering an Uber account, providing the necessary paperwork, attending an orientation, undergoing a vehicle inspection, and beginning to drive. If you follow these instructions, you will soon be making money with Uber.